Donald Trump's recent description of Caribbean and African countries as shitholes has crea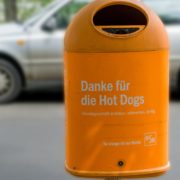 ted a shitstorm in the translation world, with translators and censors struggling to find words to convey Trump's meaning. The need for a German language translation of the term has seen the media popularise the term Drecksloch, a previously little used noun, which denotes literally a hole of, or for, muck. Technically Dreck does not exclusively refer to excrement, as it may also describe dirt, mud, rubbish, and manure. Interestingly, Drecksloch was previously recognised by dictionaries Dict.cc and Leo.org but not yet by the authoritative Duden.
https://hetranslations.uk/wp-content/uploads/2018/01/translation_doggiebag_berlin_trump-e1515932510388.jpg
1742
1569
HE Translations
https://hetranslations.uk/wp-content/uploads/2016/08/HEgreenT-300x187.png
HE Translations
2018-01-15 11:59:06
2018-01-15 14:24:45
Translating Trump: are you rising to the challenge?