Electric car revolution: Polestar experience to date
With 230,000 miles on the clock my 20-year-old Volvo V70 was still going strong, but in early 2022 the time had come to think of a replacement. My mind was made up that the next car had to be electric, and preferably one that was designed from scratch for the purpose, rather than based on an existing internal combustion model. This limited the choice, which can actually be a good thing in many situations. Instinctively I was drawn to the Polestar 2. Although the brand has been owned by Volvo since 2015 (which in turn has been owned by the Chinese company Geely since 2010), Polestars aren't usually available through Volvo dealerships, so in March last year my partner and I booked a test drive at the nearest Polestar centre in Milton Keynes. Unfortunately but understandably, we weren't allowed to take the car to nearby Silverstone, but the experience was nevertheless impressive, not least the amazing instant acceleration! But we weren't quite ready to take the plunge and decided to wait a while longer.
Another EV that had caught my eye was the Ioniq 5, so we took one for a test drive from the local Hyundai dealership in Leicester. The experience was very positive, but the dithering continued until a few weeks later we decided to take a Kia EV6 for a spin. Once again, this was in the 'impressive category', to the extent that we booked the car for an extended second test drive in the autumn of 2022. We then got a little carried away and ordered a rather pricey high-spec model, which we secured with a modest £500 deposit. The fact that we had to wait for up to a year for delivery didn't bother us, since we weren't in a particular rush.
Meanwhile, in late 2022 we had a roof-mounted 5.5 kWp PV system installed, together with a 6.6 kWh domestic battery and a 'smart' Zappi car charger. The idea was to charge the new car from the sun as much as possible.
Then fate intervened in the sense that the day before an extended sojourn in Scotland I spotted a Polestar 2 through the window of the local Volvo dealer and couldn't resist the temptation to call in for a chat with the sales chap. The car was slightly second-hand but seemed as good as new. On return from Scotland it was still there, so I called in again and booked a test drive, after which we decided to cancel the Kia EV6 order and buy the Polestar instead in March this year. Exciting times!
Since we don't use the car on a daily basis – come to think of it, one could argue that I was a non-commuting home office pioneer long before Covid, see pertinent Leicester Mercury article from 2007 here, but I digress – the plan to use home-harvested solar energy as much as possible for charging the car has worked out very well so far, although over the winter there will no doubt be periods when the grid will come into play.
Our first long-distance outing in the Polestar was a trip to Aberdeenshire in May, for a change via the (even more) scenic western route (Loch Lomond, Rannoch Moor, Glen Coe etc.). We set off with the battery at 100%, although it is worth noting that it is generally recommended to avoid charging EV batteries fully on a routine basis. For Polestar batteries the maximum is set to 90%, although it is adjustable. Another significant point to be aware of is that the charging speed isn't linear: it starts off rapidly but becomes slower and slower the closer the battery gets to full capacity. The process is electronically controlled to protect the battery and maximise its life.
In any case, we decided to break the journey for more charging stops than would have been necessary with the 220 mile range, in order to gain some experience with public charging stations, and ideally away from presumably busy motorway service stations. All in all we ended up stopping five times during the 530-mile journey. At one of the charging stations (in Doncaster, if memory serves), for some unfathomable reason the charging cable was so short that it didn't reach the other side of the car. Go figure, as they say. Next stop Jet garage at Catterick: full marks. At Gretna Green Services one of the fast chargers wasn't working and the others were occupied, so we diverted to Gretna Green village for a top-up charge at a relatively low-powered but adequate facility.
For our customary overnight stop, usually near the half-way mark, we chose Travelodge Glasgow Airport on this occasion, not least because in the vicinity is a brand-new, high-powered 150 kW charging station with multiple charging bays, operated by MFG. On return from Scotland we discovered a £100 penalty notice in the post, for allegedly 'parking' at said station. Not amused! MFG customer services were exceptionally unhelpful, as were the so-called Euro Car Parks, but thankfully common sense prevailed and the fine was overturned by the POPLA appeals service, phew. The next charging stop was Fort William at a facility operated by ChargePlace Scotland. This worked OK, although we nearly outstayed our welcome, i.e. there was a 45-minute limit.
The charging decision at my 'Scottish office' was to opt for a waterproof external socket (in order to avoid cable-through-window faffing), rather than a dedicated fast charger for the time being. So far this has proved sufficient for our needs.
Having read that Tesla recently started opening up their charger network for use by non-Teslas, on the way back from Aberdeenshire to Leicester we decided to try the Tesla facility at Dundee (at the time of writing one of only two in the whole of Scotland!), but there was a hiccup with the Tesla app. I managed to get through to Tesla support on the phone, who were very helpful although the issue couldn't be resolved there and then. The software glitch was, however, rectified within a few days, and I have since successfully used the Tesla facility at Banbury. Anyway, from Dundee we diverted to Kinross Services for charging, which was uneventful. Next stop Dumfries, which has a plethora of ChargePlace Scotland chargers, although probably mostly low-powered (7 kW). Pleasantly surprised that the rate at the faster charger at Brooms Road car park was only 25 p/kWh.
Our final charging stop was at Lymewood Farm, WA11 0GR, which worked well and has the added benefit of a carvery at the other end of the car park.
Back home, both the driving fun and charging from the roof-top PV system have so far continued without encountering any issues.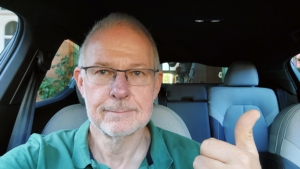 The Polestar 2 experience so far in summary:
The car offers plenty of Fahrvergnügen.
So far we have been able to charge the car almost exclusively from our roof-mounted PV system.
The fees at public chargers vary widely, so worth comparing.
Apart from a couple of minor hiccups at some of the 10 or so public charging stations we have used so far, nothing actually went wrong.
It is a satisfying feeling to play an active role in the British Energiewende.
This report was inspired by Co-Wheels' "Inspire the EV revolution" campaign for World EV Day 2023. Extracts were used in the Co-Wheels post on Debunking EV Myths on World EV Day.
https://hetranslations.uk/wp-content/uploads/2023/09/translation_polestar_highlands.png
821
1258
HE Translations
https://hetranslations.uk/wp-content/uploads/2016/08/HEgreenT-300x187.png
HE Translations
2023-09-08 16:06:51
2023-09-10 07:47:41
Electric car revolution: Polestar experience to date