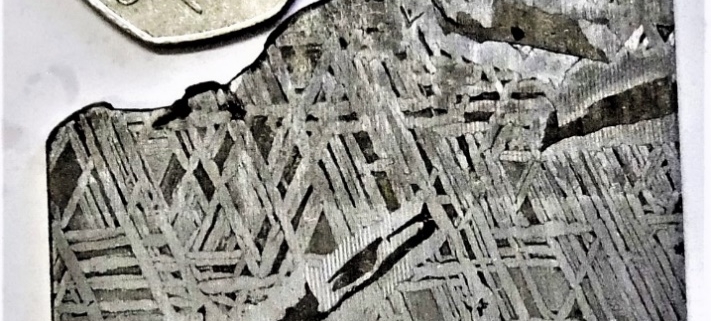 Article by Dr Fred Starr PhD, FIMMM, FIE, MIMechE, CEng
In an earlier posting I mentioned the barely explicable Widmanstatten structure, seen in the iron-nickel Marburg meteorite, which was found by local people as result of Alfred Wegener offering a reward. Although a good deal is known about the Widmanstatten pattern or structure, I want to explain, why, in my view, there are some unanswered questions.
To see the Widmanstatten structure one must take a slice from the meteorite, grind and polish the surface so it gleams like a mirror, and then gently etch it using a weak solution of nitric acid, dissolved in alcohol. The underlying structure is then visible to the naked eye. It has the appearance of a pattern consisting of fine strips of paper laid on top of one another. Sometimes the strips are at right angles. Other times they can be at 30° or 60°.
The German Professor, Fritz Heide, published the "Kleine Meteoritenkunde" in 1934, one of the first books on meteorites. It was subsequently brought up to date by Frank Wlotzka and translated into English in 1994. Although missing more recent accounts of meteor phenomena, and in situ investigations of the asteroids and planets, it remains one of the standard works on the subject. Nevertheless, this book, and what I have read on the internet, doesn't really tell us where Widmanstatten meteorites come from. Heide and Wlotzka were more interested in the stony meteorites, that are much more common.Continue reading full article…
https://hetranslations.uk/wp-content/uploads/2021/02/translation_fredwidmanstattenphoto.jpg
841
711
HE Translations
https://hetranslations.uk/wp-content/uploads/2016/08/HEgreenT-300x187.png
HE Translations
2021-02-25 18:15:36
2021-03-11 09:15:10
Widmanstatten meteorites