Rhinoceros charging in Great Russell Street
Report by HE Translations director Herbert Eppel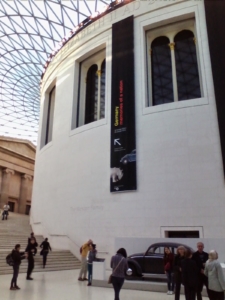 The other day I went so see the Germany: Memories of a Nation exhibition at the British Museum. Somehow I wasn't entirely convinced by it, with doubts similar to those expressed by translator colleague Margaret Marks in a review on her blog. Still, it was interesting, and I hadn't been to the British Museum for ages – the roof is stunning, and something of a technical achievement!

I'm also quite impressed (even if I say so myself) by the semi-artistic exhibition poster "mirror selfie" I took outside – hence the title of this blog post, with thanks to translator colleague Judith Hayward, who wrote this comment when she saw the photo: "The photograph should inspire a song – not sure a rhinoceros charging in Russell Street is quite as poetic as a nightingale singing in Berkeley Square, but it certainly shows the British Museum hasn't lost its charm…".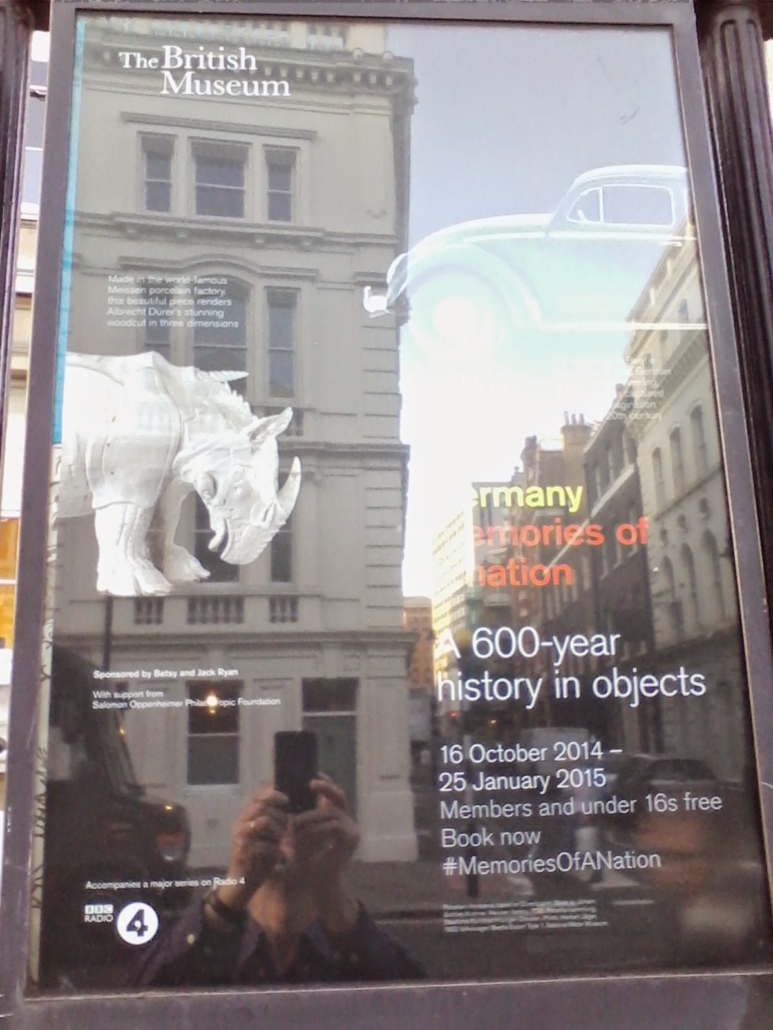 Anyway, I'm going to catch up with the 30-part BBC Radio 4 podcast that accompanies the series (have only listened to a few episodes so far), and I bought the exhibition book, which should make an interesting read.
Update January 2015:
Reading the very interesting/excellent Frankfurter Allgemeine Zeitung article by Gina Thomas under the heading "Und plötzlich ist Deutschland ganz anders" (translation: "Suddenly Germany is quite different") made me realise (even more so than I had already realised before I read the article) that I didn't really 'digest' the exhibition properly during my visit and would no doubt benefit from a second visit, but I'm not going to make it before it closes. But anyway, I found the BBC Radio 4 series very illuminating (still haven't listened to all the episodes), and I still have the book to delve into.
https://hetranslations.uk/wp-content/uploads/2018/12/translation_rhino_technical_london_german.jpg
1600
1200
HE Translations
https://hetranslations.uk/wp-content/uploads/2016/08/HEgreenT-300x187.png
HE Translations
2014-11-19 14:22:27
2021-11-10 10:06:15
Rhinoceros charging in Great Russell Street